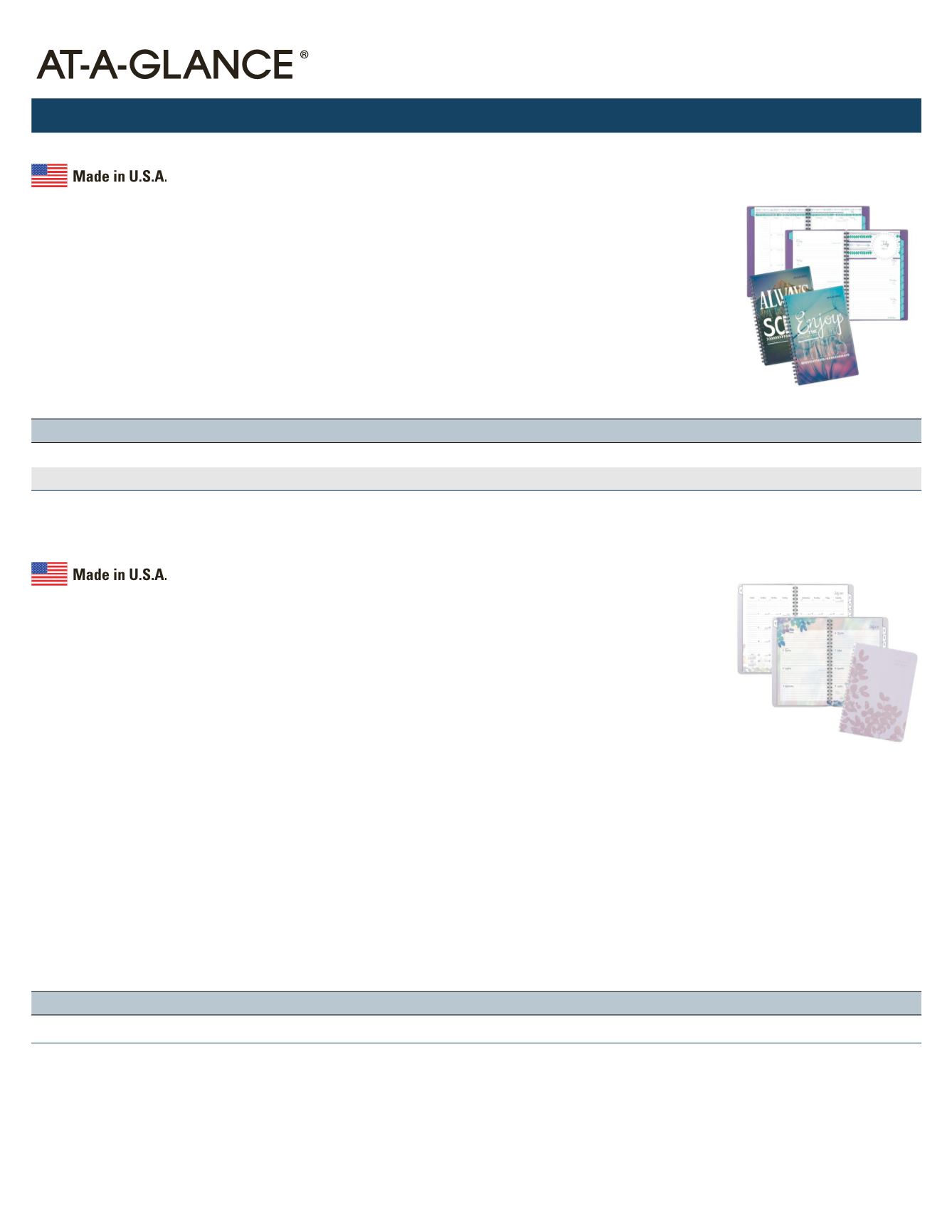 APPOINTMENT BOOKS & PLANNERS
Weekly
AT-A-GLANCE® Insta-Note Academic Weekly/Monthly Planners, Assorted Designs
Life is always busy, but this Insta-Note planner can help you stay on track. The assorted cover designs add a
burst of optimistic energy with an inspirational quote as you plan each week and month from July - June.
• Insta-Note planner cover has an inspirational quote and a scenic image on the front cover
• Academic date range runs 12 months from July - June with Julian dates. Perfect for teachers,
administrators, parents and other professionals who are accustomed to planning on this timeframe.
• One week per two page spread features ruled planning space for each day. One month per two page
spread features unruled daily blocks
• Past and future month calendar blocks also shown for reference
• Planning pages are white with script font. Choose brightly colored mountains or seascape cover design.
Sheet Size Inner Qty Mst Qty List Price Ea Min. Order Qty
Item Number
183-200A
47/8"x8" 3
12
$17.49
3
183-905A
81/2"x11" 3
12
$22.39
3
183-200A: Always Take the Scenic Route, Enjoy the Little Things
183-905A: Sea Free, Enjoy the Little Things
AT-A-GLANCE® Aura Blooms Academic Weekly/Monthly Planner, 13 Months, July Start,
5 1/2" x 8 1/2", Lavender
Aura Blooms academic planner has weekly and monthly spreads. The soft lavender cover is highlighted with
iridescent flowers that reflect in the light, and each page features the same flowers in pretty pastel colors.
Weekly pages are full color while the ruled monthly pages are simply accented around the edges.
• Aura Blooms weekly/monthly planner has a lavender cover with iridescent flowers on the cover. Weekly
pages are full color with pastel flowers and monthly pages are white with pastel flower accents along the
edges.
• One week per two page spread is laid out Monday – Sunday with equal space for the weekdays and
weekends. Notes section included at the start of each week.
• Tabbed, one month per two page spread features unruled daily blocks to mark key dates and events
• Notes column shown on the left side of the monthly spread along with past and future month calendar
blocks for reference
• Includes holiday list, 3 year reference, event calendar, contacts pages, notes pages, future planning
pages and double-sided interior pocket.
• Printed on quality paper that resists ink bleed and contains a minimum of 30% post-consumer waste
recycled material
• Academic weekly/monthly planner is wirebound with white wire. Cover is lavender with Aura Blooms
design.
• 5 1/2" x 8 1/2" page size for use at your desk or on the go
Item Number
Sheet Size Calendar Term Binding Style Refillable Julian Dates Inner Qty Mst Qty List Price Ea Min. Order Qty
585-200A
51/2"x81/2" Jul - Jul
Wirebound No
Yes
3
12
$21.79
3
11